I've just recently got back from Iceland as some of you may already know and thought it was about time I put together a trip report.
I've always been fascinated by 'remote' places, especially up north. Always wanted to visit places like Alaska, northern Canada, Greenland, Iceland and Svalbard etc but the cost always put me off going.
Last summer I was just browsing around and found that Icelandair were offering a 'Northern Lights City Break'. Flights, three nights in Reykjavik and a 'Northern Lights' tour for £299 all in, bargain! Looked into it a bit more and found that the flights alone were £210 so after talking to a friend we decided to bite the bullet and book it.
Neither of us really knew what to expect, other than lots of rain and wind! We initially booked the flight (£210 return each) and a hotel (£70 for 3 nights!) and planned on keeping it as that. As time went on, we decided to hire a car (£100 for 4 days) to give us more choice of what we wanted to do rather than being stuck on the usual coach tours around Iceland. Not long after this we were looking around more and noticed that you could fly to Akureyri (Known as the capital of north Iceland) on an Air Iceland Fokker 50 for €80 return, bargain! So we booked that. Here's the report...
I booked the flights via the Icelandair website in late August for Friday 25th November - Monday 28th November which was a painless experience. They gave you the usual options of upgrading etc but I just kept it simple, although the free 20kg baggage allowance was nice. I selected my seats for the outbound and return journey (24F / 26A) and we were all ready to go.
I'd been checking the Icelandair loads in work which varied from anything between 50 pax to 180 which is a full load so I didn't really know what to expect, although being a weekend flight I expected it to be full. The day before I logged onto the Icelandair website to see how busy the flight was on the seat selector, and there was only around 5 seats spare in economy.
Flight day
Friday came and it was time to leave the house and head for the airport. I'd packed the night before so I wasn't rushing around at the last minute throwing stuff into my suitcase. The
FI441
was scheduled out at 1225 so I left my house around 0945 to give myself a bit of time to get some food at the airport. A quick drive to the Staff West carpark and a 10 minute bus ride later I got to terminal 1 around 1020. There was a small queue at check-in but nothing you wouldn't expect. There were two Icelandic couples infront of me which surprised me and soon enough I checked in. Usual security questions and I was passed my boarding pass, seat 26F as expected departing from gate 23, the usual Icelandair gate. Security, as always, was painless and quick. I spotted Starmoaner chatting up one of the pretty customer service girls so didn't want to interrupt him as he seemed to be trying his best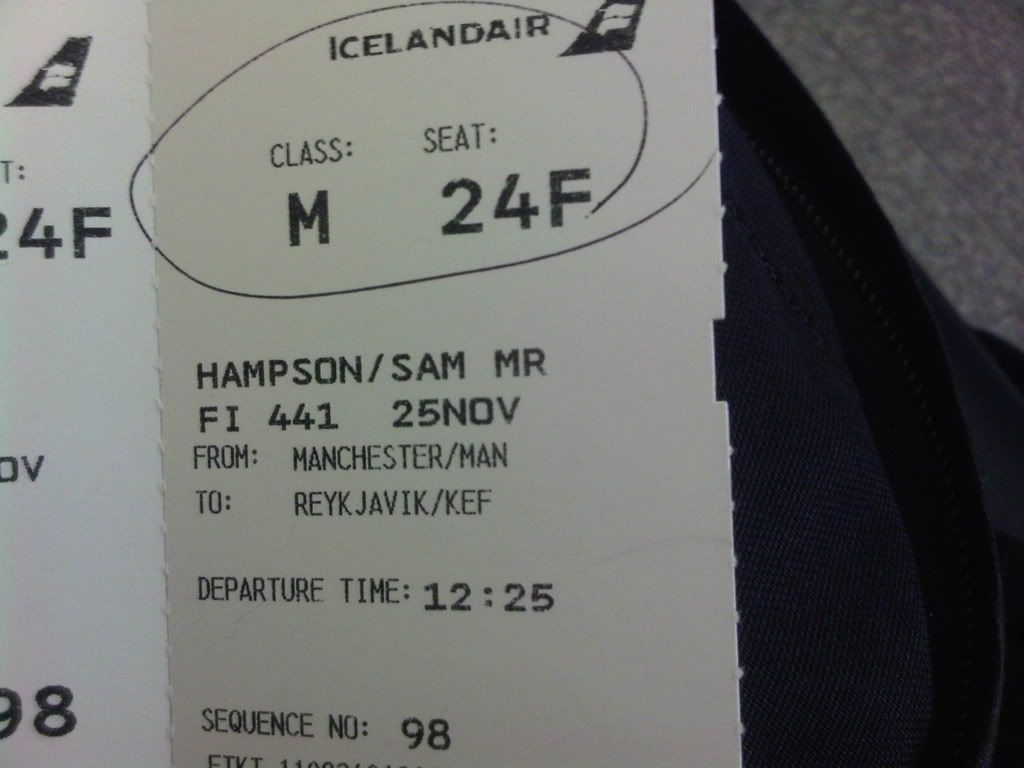 The flight came in pleasantly early, at around 1025 giving it a two hour turnaround at MAN so I wasn't expecting any real problems. After being forced to walk through T1 duty free and having all sorts of shite sprayed in my face by girls who had been severely tango'd I got to the main shopping mall, ahem sorry, departures area. Passed my time with a quick bite to eat and some nibbles from Boots for on the way. I got to the gate about an hour before and got myself a seat close to the desk so I could dive on first. Surprisingly, we didn't start boarding until about 20minutes before departure but once again it was a painless process. I was the first onboard the aircraft behind the 'Saga Class' passengers and was surprised to see there was no cabin crew to 'greet' you at the door, not that it bothered me. I took my seat, 24F which had a horribly dirty window, but wasn't all that surprised being right behind the gear/engine.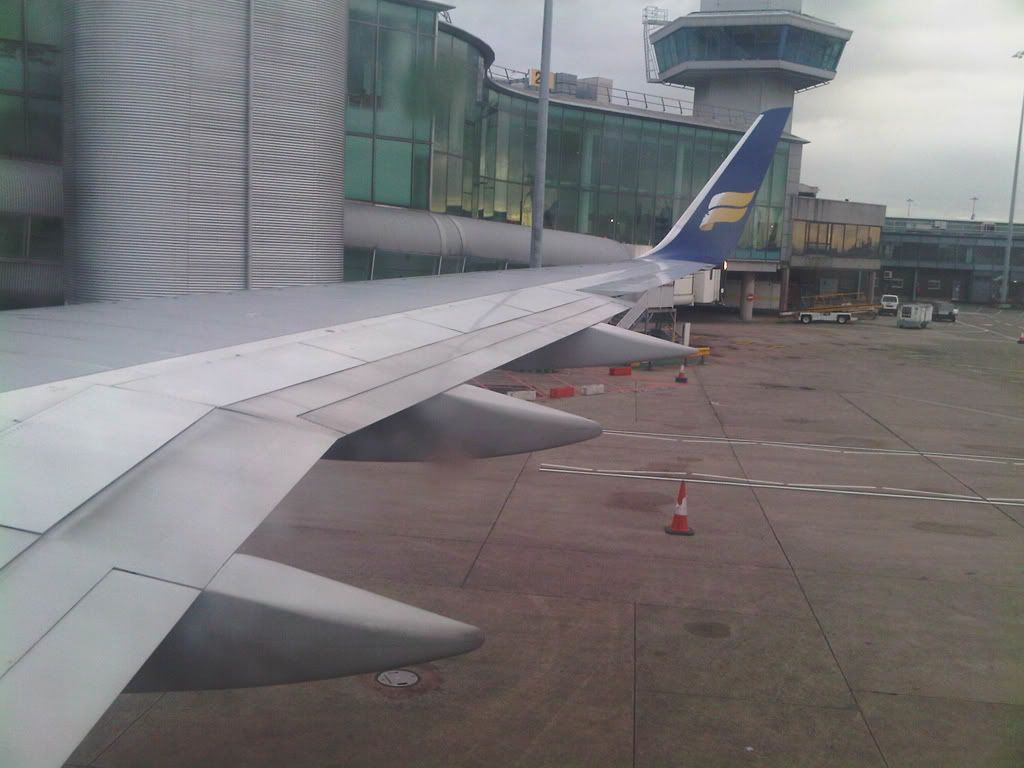 The aircraft for my journey was TF-FIZ, an ex Iberia 75W. The seats were surprisingly comfortable and I had ample leg room, and also a personal TV in the seat infront of me which was nice, as I've never flown on an aircraft featuring PTV's before. Once boarding was complete the captain did an announcement in Icelandic, shortly followed by one in English. He informed us that the flight time was around 2:30 and we weren't expecting any rough conditions, but unfortunately the entertainment system wasn't working so we wouldn't have any TV's for the journey. While it was a little disappointing, I wasn't that bothered for a 2:30 flight and I had my iPod for company. Virtually the whole aircraft was occupied by couples, I assume going to see the Northern Lights so I felt a bit out of place. Bang on 1225 we pushed back and taxied over to 23R. We powered up and soon started rolling down the runway, followed by a fairly quick rotation and good climb on a POL1R departure up over Manchester and Salford. I managed to spot my street in-between the cloud patches too.
The flight was pleasant and smooth, with a good service from the Icelandic cabin crew. You don't get a free meal on Icelandair in economy, but do get complimentary drinks and a biscuit. Captain came back over the PA to apologise once again for the entertainment system and told us we'd be shortly descending, landing into Keflavik around 25 minutes later. Descent was uneventful and mostly cloudy which was a bit of a shame, but also to be expected for Iceland in November. At around 3000ft I finally got my first glimpse of Iceland, then it started to sink in I was finally here! Managed to get a few photos on the descent with my compact camera, the couple next to me also asked me to take a few pics for them which I did.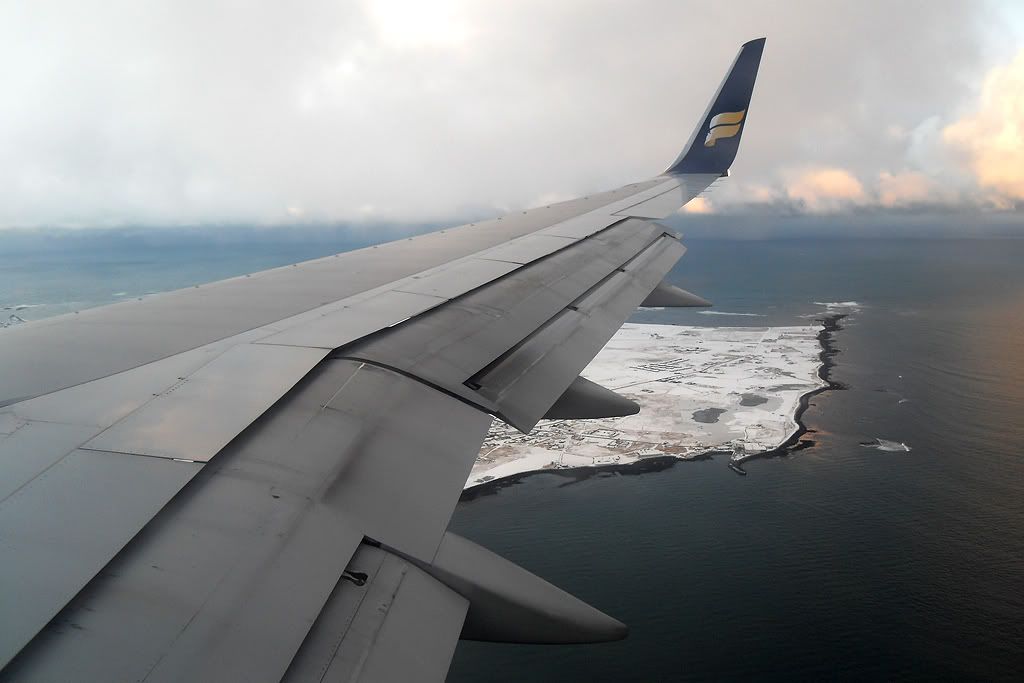 We made a very smooth touchdown on runway 20 at Keflavik airport ar around 1500 and used no reverse thrust at all. It was interesting to see the runway still covered with fairly large patches of snow, something you'd never see in the UK! We slowly vacated the runway onto ice/snow covered taxiways and began a slow backtrack to the terminal. In the distance I could see a C130 which I think belonged to the Canadian Air Force. We arrived onto stand and the airbridge was promptly attached to the L2 door and we began to disembark. It took about 10-15minutes to walk from the airbridge - baggage reclaim which surprised me but isn't unusual for a large intl airport. Customs and immigration was painless, with a quick grunt from the immigration officer waving me through. I looked at the boards to see which belt my bag would be coming off, and there it was infront of me already going around!
There's a HUGE duty free shop in baggage reclaim at Keflavik, where most locals were literally filling up two shopping trolleys worth of stuff and taking it out with them. I had a quick look around but didn't see anything that interested me. I drew some cash out of the ATM next to the shop, 28,000 Icelandic Krona.
My friend was arriving from LHR but his flight was running slightly late so he wasn't due in until 1630. I used the time to have a quick walk around the airport and also visit the tourist info desk to get some maps etc for our short stay in Iceland, as I didn't fancy getting lost up on the top of a mountain. Keflavik Airport was unusual and had a very Scandinavian feel to it (duh). Wooden floors and wooden panels on the walls all around gave it a nice and 'homely' look.
Eventually my friend appeared from the doors and we headed over to the car rental desks. A few minutes later we were handed the keys to our car and directions to the car park. We headed outside where it was around -2C which wasn't too bad, although there was about 6" of snow on the ground, nothing to the Icelandics though. Our car was a Hyundai i30 which was pleasantly roomy and modern, great for our short stay there.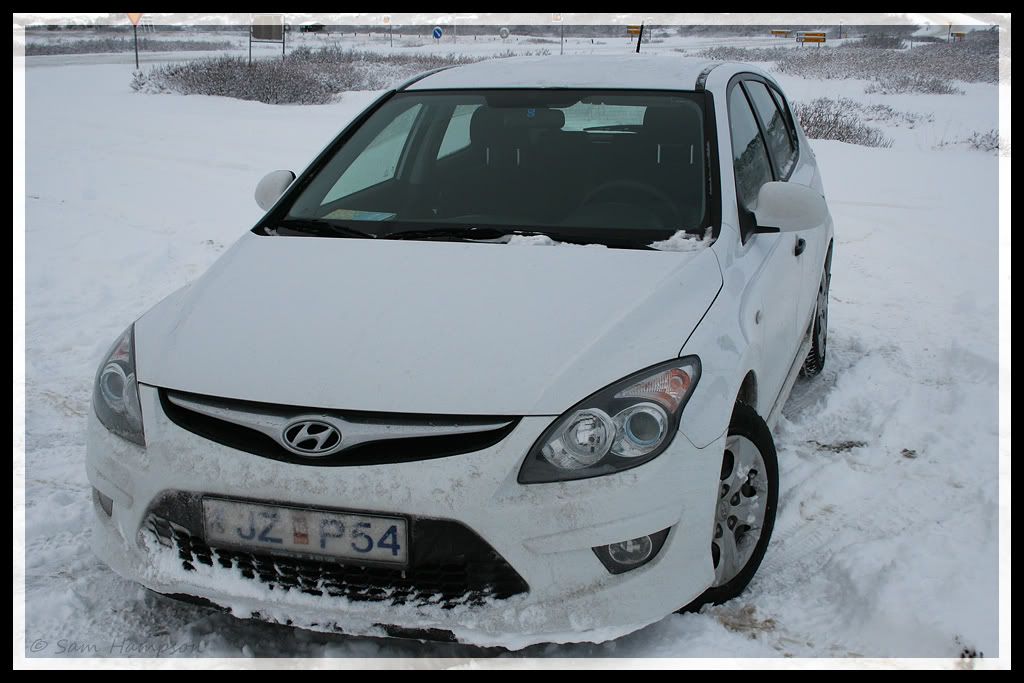 The sun sets around 1600 in late November in Iceland, so when we drove to Reykjavik city which was around a 1hr drive, it was all in darkness. There was plenty of road signs to Reykjavik, however, they were all covered in snow but we soon found our way there. The hotel which was fittingly named 'Hotel Cabin' was adequate but extremely small rooms, the size of a ship cabin. We'd only be spending a few nights here though so it wasn't a problem.
We headed out to Reykjavik City which was about a 15min walk in the wind and cold which took me by surprise. I'd only took trainers so I was freezing to death from the ice and snow, so I decided I needed to buy some proper snow boots the day after. We headed out at night to try and find the Northern Lights but to no success, they weren't strong enough.
We spent the next day driving around Iceland, doing the 'Golden Circle' ourselves which was absolutely fantastic. We visited the Geysirs and Gulfoss which were breathtaking, full pics from that day and our day in Akureyri can be found here:
http://s1112.photobucket.com/albums/k498/Sam-at-MAN/Iceland/
Saturday night came and we decided to try some Icelandic delicacy's, grilled horse for me and Minke whale for my friend. Never paid so much for a meal in my life so I nearly fainted when the bill came, but when am I going to eat horse again? Meal was ok, just tasted like steak...
On the Sunday we had booked to fly upto Akureyri as I said earlier, the 'capital of the north'. We were booked onto the Air Iceland 122 departing at 0930 from Reykjavik City Domestic Airport. We got up around 0730 and grabbed some breakfast from the hotel and set off to the airport which was only around a 10 minute drive away, arriving around 0830. The airport was tiny, just one building and a car park outside with a line of Air Iceland Fokker 50's parked outside awaiting their first flights of the day, which was 0915. To our surprise, the car park was totally free! We parked right outside the terminal and walked in, to find a totally deserted terminal at around 0840, it turns out check-in doesn't open until -30 departure...
We waited around and I took the opportunity to take a few quick snaps of the terminal.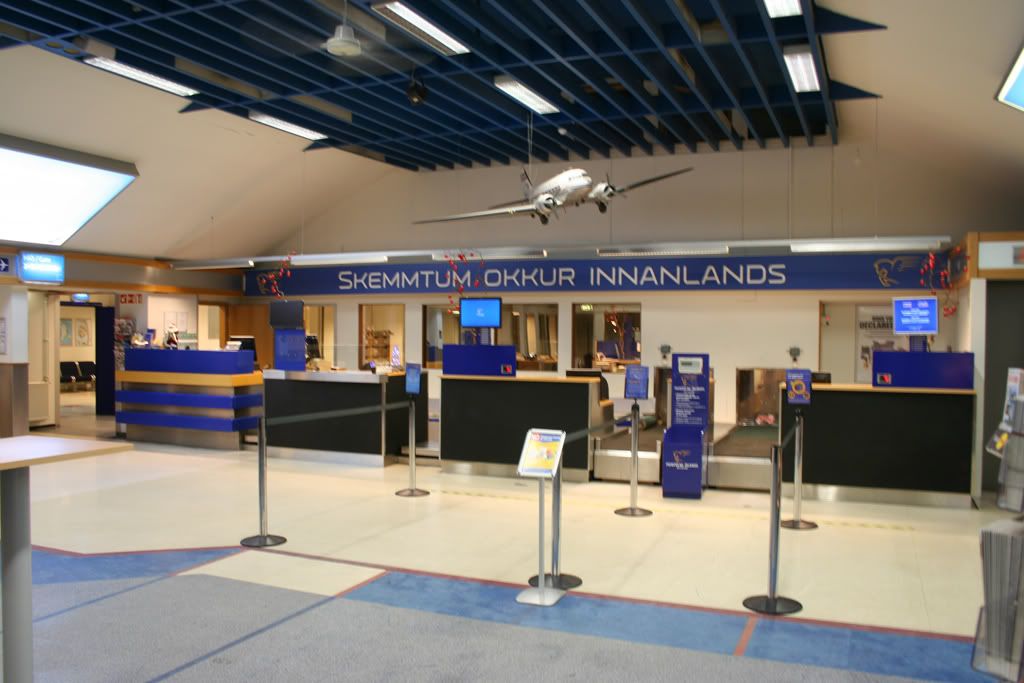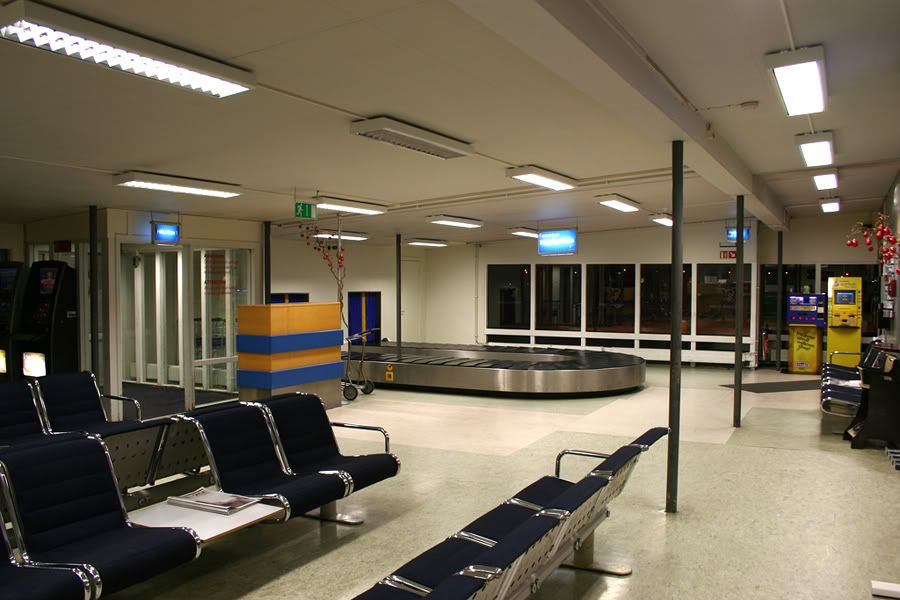 It was basically just one building, with check-in desks one side and 'baggage reclaim' the other, no segregation or security which surprised me. We checked in (which required no photo ID etc, just a booking ref) and was soon passed my boarding pass which was a till receipt basically. I was the first to check-in and given seat 7A, my friend 7B. We waited around a bit and eventually more people started arriving, mostly locals. Time passed and an announcement was made in Icelandic and people jumped up and shuffled over 5 meters to a desk, so we followed. Passed our boarding passes to the women and once again no ID was required and we walked onto the apron. Health and safety isn't big in Iceland, so you walked right under the wing / prop, around the front of the plane and up the small stairs onto our aircraft, TF-JMO, Fokker 50.
We soon took our seats and after 10mins or so the door was closed and we were being de-iced, quite a surreal experience not going through any sort of security etc but was a nice change. Engines soon fired up and we taxied out to the runway at Reykjavik Domestic. We lined up, powered up and off we went for the 40min flight up to Akureyri. Never been on a Fokker 50 before but it was pretty comfortable and roomy inside. The single cabin crew soon came around offering us a drink and a piece of chocolate and before you knew it we were descending. Some spectacular scenery in Iceland as you'd imagine so I was pretty much glued to the window for the whole flight. The gear was lowered about 15mins before touchdown which was surprising and I have no idea why, but hey ho. I spotted the airport about 500m to our left out of the window in the valley at Akureyri.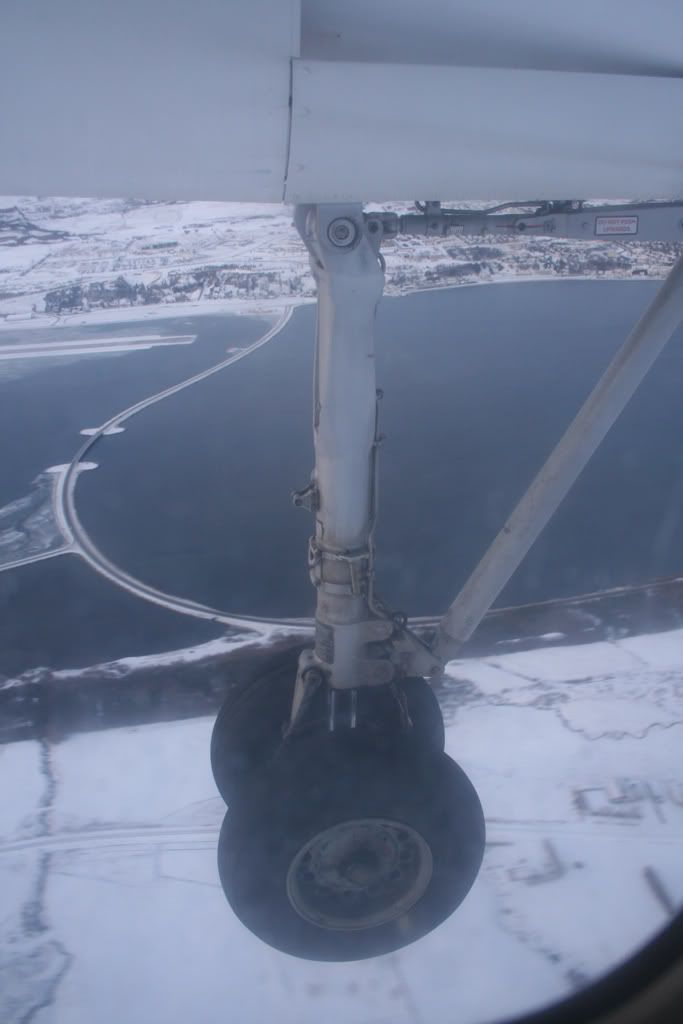 A very sharp turn at around 400ft and we had landed at Akureyri. Didn't use much braking to stop but AEY has a long runway and the apron is half way down, so we soon vacated and shut down on stand. Doors opened, walked around the front of the aircraft and into the terminal building.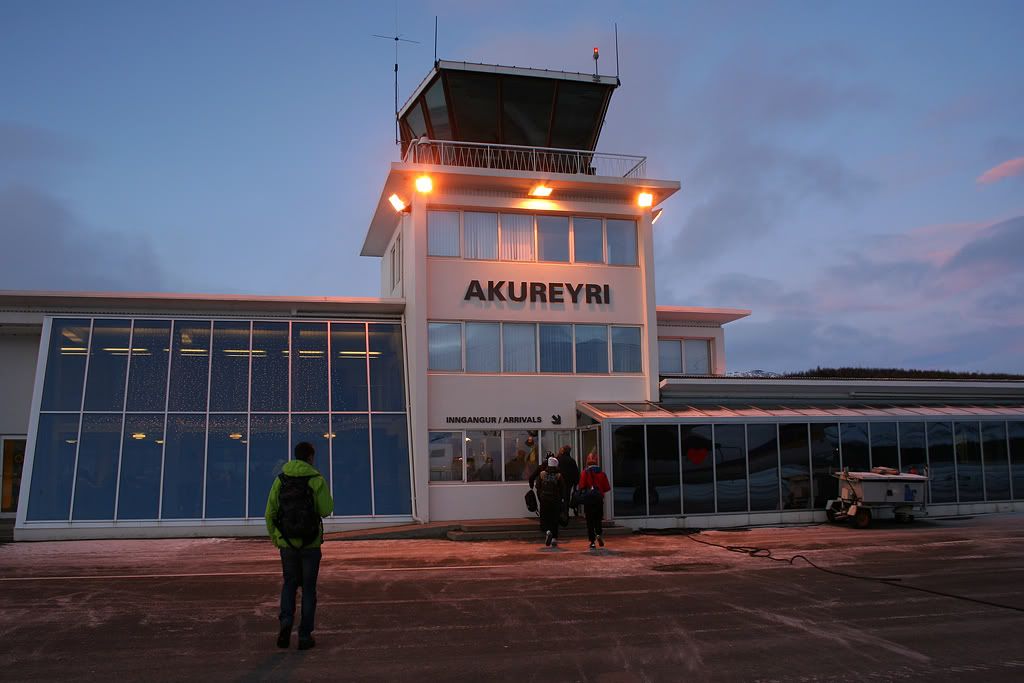 Photos above were taken at around 1030 and it was still pretty dark as you can see, the sun never really rises in this part of the world.
Spent the day walking around Akureyri town which was nice and was good to get out of the main city and see a bit of 'proper' Iceland. The cold soon took it's toll on us so we headed back to the airport about 2:30 before our flight. Pics from the day can be found here once again:
http://s1112.photobucket.com/albums/k498/Sam-at-MAN/Iceland/
Akureyri airport was pretty similar to Reykjavik in terms of size and security (or lack of it) but looked more modern. Walking from the town to the airport I spotted a plane on finals so grabbed my camera, sadly due to the sun being below the horizon all day it was quite difficult for a decent pic but hey ho.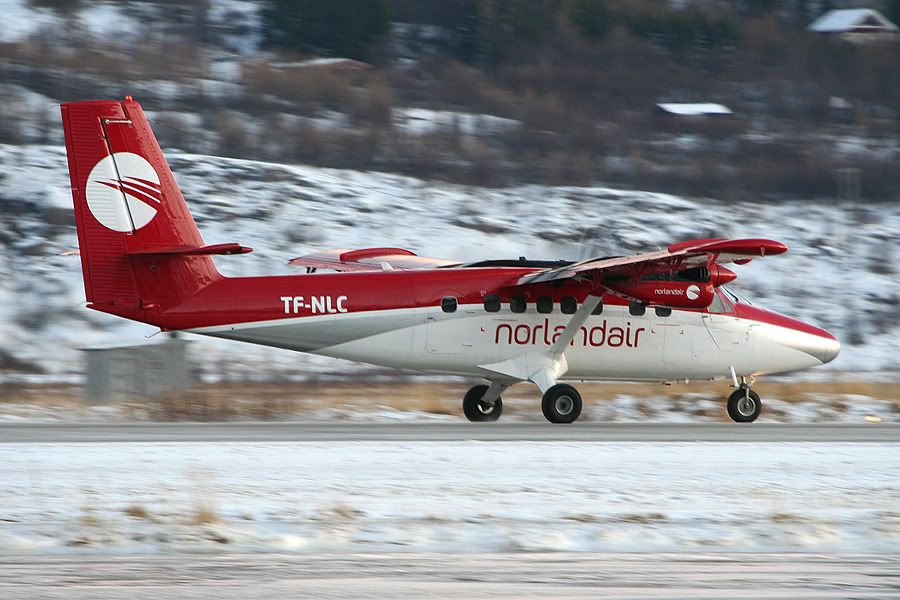 Didn't know much about it, but apparently it's a subsidiary of Air Iceland operating a handful of flights in Iceland with twin otters, this one was arriving from the tiny island of Grimsey just north of Akureyri. Absolutely no idea who uses this daily route as theres nothing other than 1 building and a runway on the island but there you go.
We spent a few hours sat in a small cafe inside the terminal watching the hourly Reykjavik flights come and go.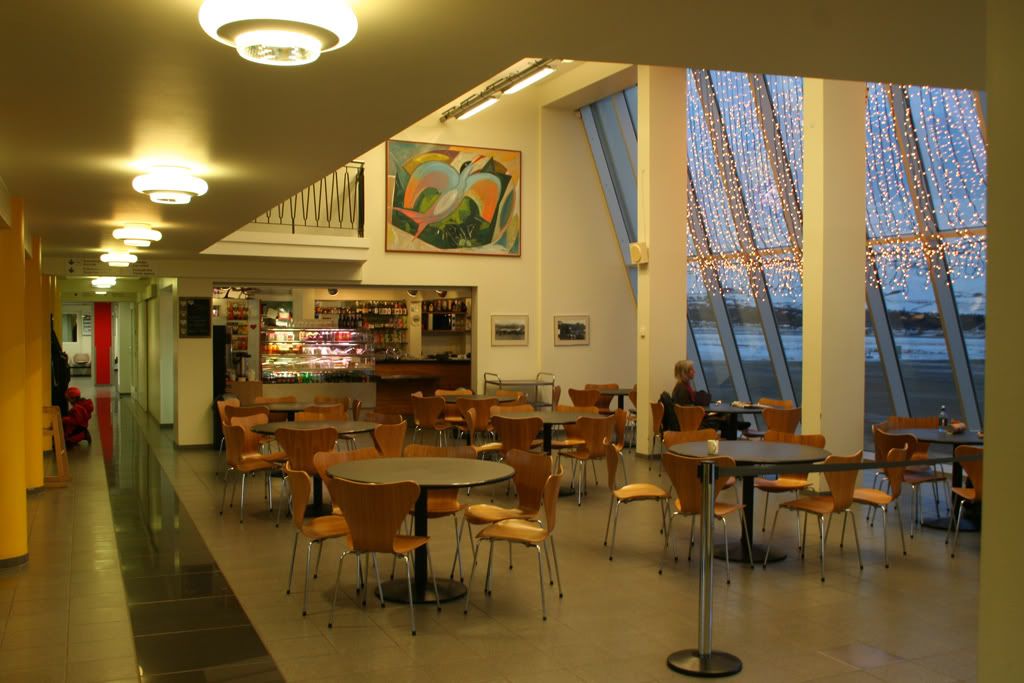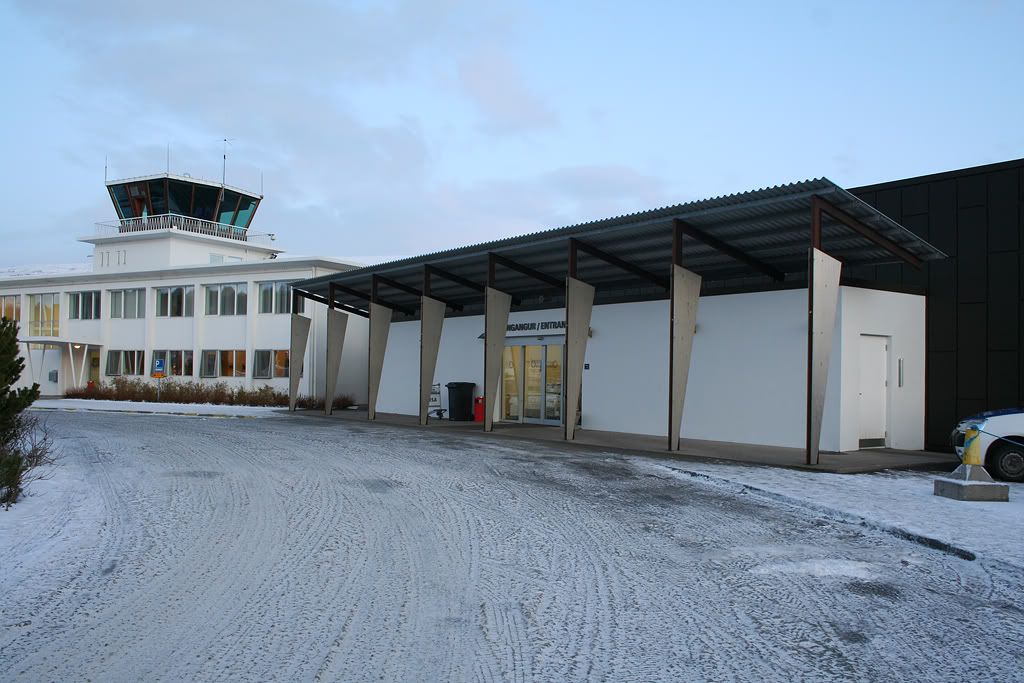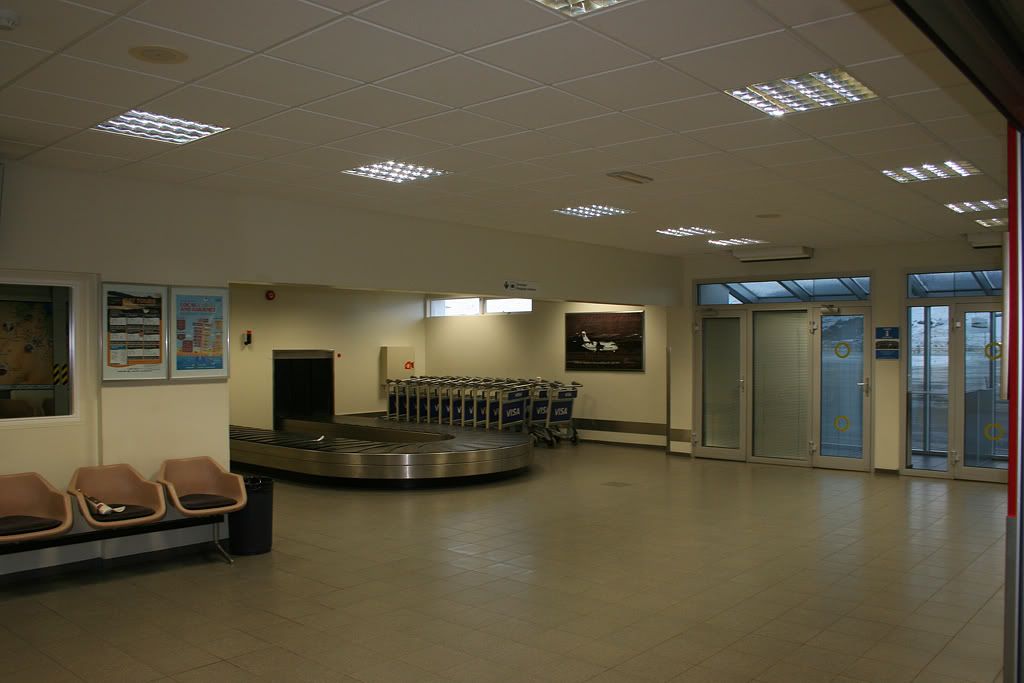 We were due to depart on the Air Iceland 153 at 1710 so after the 1610 flight had gone we headed to check-in. We were checked in by one of the baggage handlers assigning us both seat 7A and 7B again as we were the first to check in, I assume they fill the middle of the aircraft first then move out as it gets more full.
Much a similar story to Reykjavik in terms of boarding and flight time. The aircraft was TF-JMO again. Was too dark for pictures. Arrived back to Reykjavik, straight out of the door into the terminal then out again to our car.
On the Monday it was time to fly back on the FI440 departing at 0800, so it was an early start for my friend to run me to the airport in the hire car as he didn't depart until 1600. KEF was very busy at this time of the morning with all the European flights departing. I used the self-service check in machine which decided to eat my passport so had to ask for assistance, she came and retrieved my passport and took me over to a desk to check me in. As expected, seat 26A was assigned and I made my way through security. Security was the same as any other European airport and I was lucky enough to get beeped and get the rubber glove treatment. There was a few airside shops so I got some grub and headed to our gate. About -40 we started boarding so once again I was one of the first on. Our aircraft was TF-FIV so I was hoping for working entertainment, which it was. Soon got deiced and pushback in the dark. Uneventuful takeoff and climb later we reached top of cruise. I decided to watch 'Borat' for the journey, followed by an episode of the Simpsons which passed the time until TOD. Descent started and we touched down at Manchester, boo!
Made my way from gate 23 to immigration where there was a bit of a queue but nothing major. Waiting for my bag which arrived around 10mins later which isnt bad at all for Manchester then headed for the bus stop to the car park which ended a great weekend away!
Hope you enjoyed reading