Hello all,
Sorry for the trip report from my recent holiday being a little late but I've been in and out of hospital over the past 3 days with something I caught out there, no idea what it is/was but I'm all good now so here we go. I've only posted trip reports for the main Saudi flights at the moment as the internal flights weren't much interesting, only modern Airbuses with uneventful flights and this trip report is long enough as it is. I might add the others in a few days though.
I had roughly a month booked off work at mid Feb 2012 so planned to go Africa with a friend travelling around various places. As time grew closer we soon found out flights were too costly for what we wanted to do so we started looking at other options. Within a few hours we'd decided, it'd be South East Asia again! In 2010 we visited Thailand and Laos but this time decided we want to do the other parts.
We looked at various airlines and destinations but one soon caught our eye from Heathrow. Saudi Arabian Airlines! They were a couple of hundred quid cheaper than any other competitor so that persuaded us to book it! We decided to go for a 'mutli city' option rather than to and from the same point to save double backing on ourselves, here's what we booked.
Heathrow - Jakarta via Riyadh (Boeing 777-200 and Boeing 747-300)
Kuala Lumpur - Heathrow via Jeddah (Boeing 777-300 and Boeing 777-200)
We weren't massively looking forward to these flights due to the long flight times and transit times but the chance to fly on a 743 was great, and also one of Saudis brand new 773's. Below are the flight and transit times.
LHR-RUH = 6 hours
RUH transit = 4 hours 45 minutes
RUH-CGK = 9 hours
KUL-JED = 9 hours
JED transit = 7 hours
JED-LHR = 6 hours.
As time drew closer we started to look at the internal flights around Asia. We knew we wanted to travel around and had to start in Jakarta and end in Kuala Lumpur, but we weren't sure where. We soon decided that our plan of action would be Jakarta - Singapore - Ho Chi Minh City - Phnom Penh - Siem Reap - Kuala Lumpur. All of these journeys would be done by air, except Ho Chi Minh City - Phnom Penh - Siem Reap, which were by bus (around 6 hours each journey). We booked all our internal Asian flights on Air Asia and Tiger Airways and booked out flights down to LHR on BMI.
Without further ado, here's the trip report! Apologies for some of the picture quality. They're a mix of DSLR, point and shoot and iPhone photos and aren't properly edited.
Flight #1 | Manchester - Heathrow | BMI Regional | G-RJXM | EMB145
15th February marked the start of our journey, leaving Manchester for Heathrow on BMI at 1345. I've been to LHR once before, but never to fly to or from so I was looking forward to the Heathrow experience (har har). We were also booked on an EMB145 which I'd never been on before. We turned up to Manchester T3 and checked in without a problem. We had a 15kg allowance on the BMI flight and I'd also paid for 15kg for my internal Asian flights, but my case weighed a mere 9.6kg for 3 weeks of travelling so that wasn't an issue. Quickly moved through the queue at security and found ourselves airside. Wasted an hour or so before heading the gate and boarded soon enough. Was funny to hear some of the remarks from other pax when they saw what we were flying on, one of the notable ones were 'It's like a f#cking fishing boat!'. We soon boarded and I took my seat, 8D I believe. Took off and landed without any issues with some good views of the city on approach. Soon enough my suitcase arrived, but not my friends. 30mins later it appeared on the belt so no idea where it'd gotten to but there we go. We spent the day in our hotel getting rest before the long journey ahead the day after.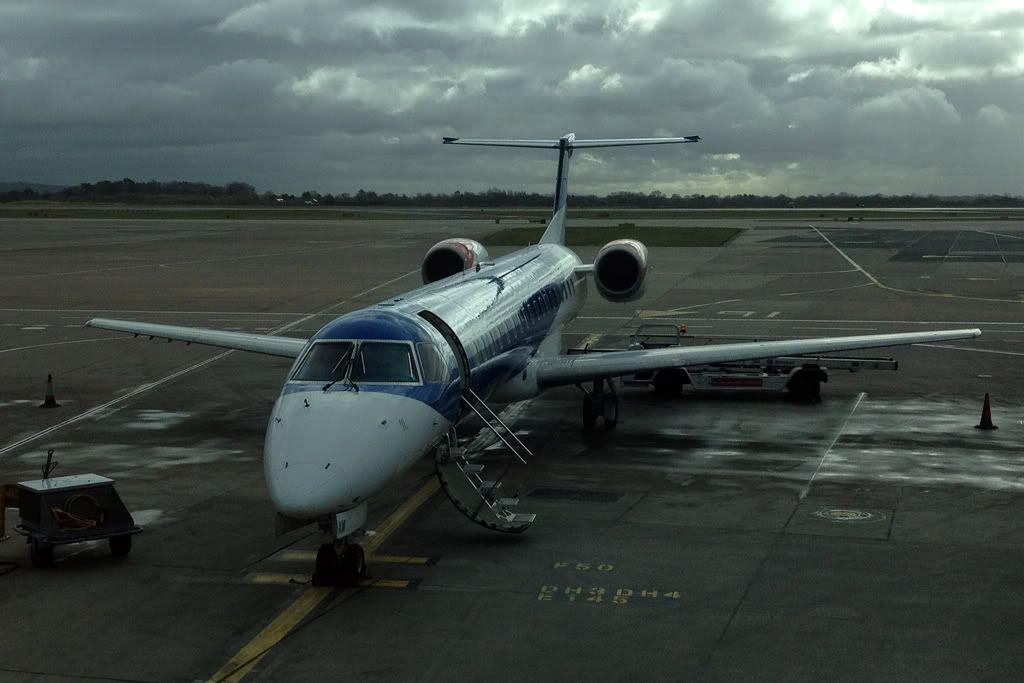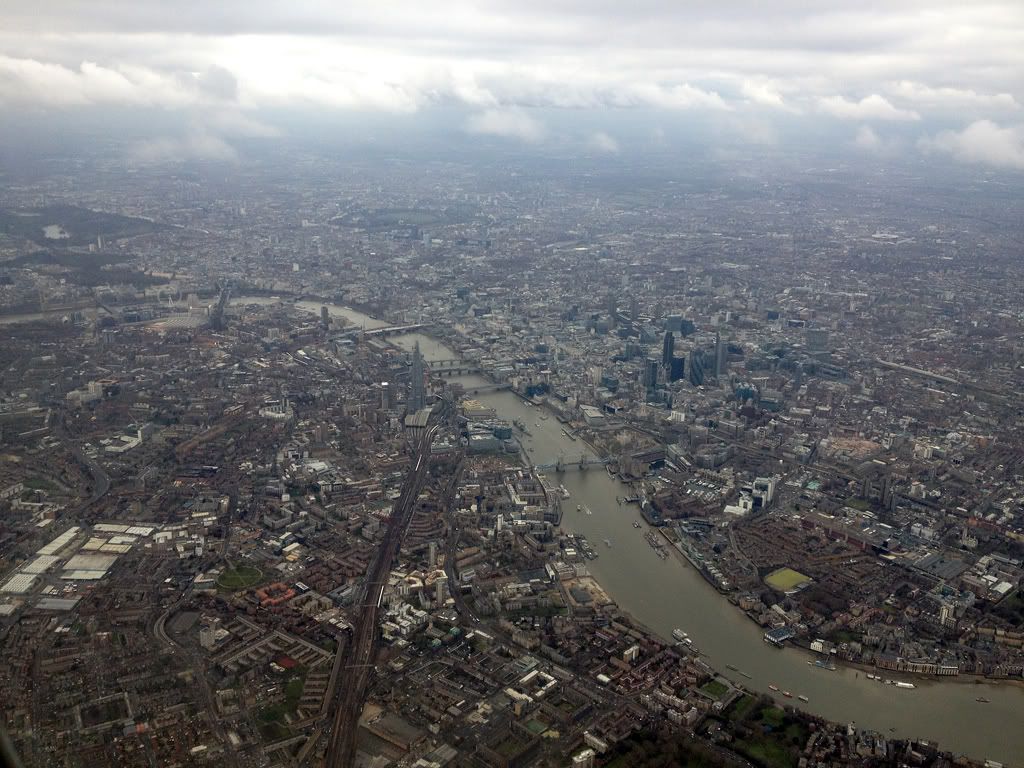 Flight #2 | Heathrow - Riyadh | Saudi Arabian Airlines | HZ-AKH | B772
After a failed night sleep at Premier Inn on Bath Road we both woke up at 0200 for our 1040 flight to Riyadh. Mixture of excitement and noise in the hotel meant we didn't get much / any sleep so we attempted to find somewhere for food at 2am, which proved difficult and soon enough we ended up back at the hotel watching TV in the early hours before both grabbing a shower then heading to T4 very early. We were hoping for an upgrade as I have a few connections with Saudi but sadly it wasn't to be, so we checked in and headed through security into T4 airside. I felt very out of place checking in a tiny 9.5kg when my allowance on Saudi was 50kg, which most of the other passengers took full use of! Stocked up with a few things from WH Smith and Boots in T4 before heading to the gate. Sure enough, there was a Saudi B772 waiting for us, registration HZ-AKH.
Boarding began with the usual F/J pax first, then unusually they just invited everyone rather than seat row numbers for economy. We were a little unsure what to expect on board, but we weren't expecting much. Pictures I've seen on the internet of Saudi interiors didn't give me much hope so we were expecting small PTV's and fabric seats, we were pleasantly surprised. We had booked our seats at the rear of the cabin, where the config is 3-4-3, we had the window seat and the one next to it on the right hand side of the aircraft. Infront of us the config was just 2-X-2 due to the toilets.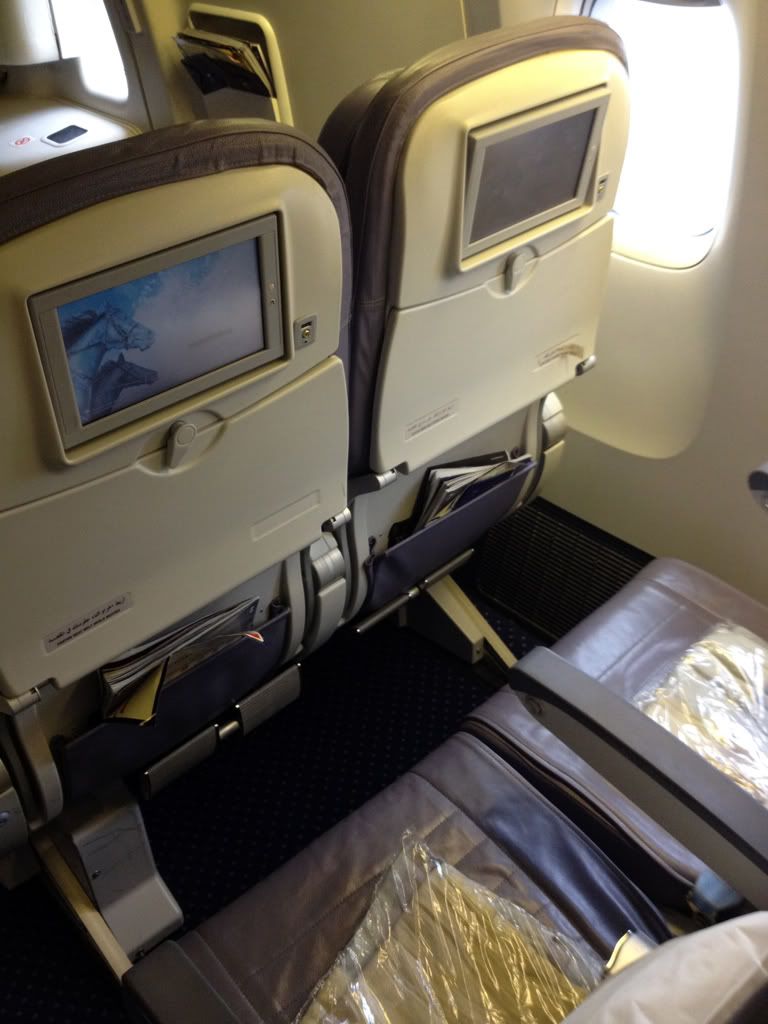 We took our seats as we were one of the first on board and we were hoping the aisle seat next to us would be kept empty so we'd have a bit of room on the flight but sadly this wasn't the case. A fairly, let's say 'large' Western gentleman came down the cabin and sure enough he was sat next to us. He had trouble fitting into his seat so I was hoping the cabin crew would move him to one where there was a bit more room but they didn't. Along with the invasion of my personal space and awkward position I had to sit in for the majority of the flight due to his size the smell wasn't all that great either, but hey ho. Boarding finally finished then the cabin crew were given the message to arm the doors, great we're finally going! But oh no... METAR app on my iPhone showed the outside air temperature as +09c, so I was shocked to see a de-icing rig appear and start de-icing us on stand! Still to this day have no idea what he was doing but there we go. We pushed back about 20-30mins late and started the taxi to 27L which didn't take long. A very unique thing to Saudi is that when taxiing out they play a verse from the Holy Quran, which everyone including crew tend to take very seriously. On the personal TVs and also on the large flat screen TV in the center of the cabin the nose cam was displayed which was excellent, never seen that before. We lined up and soon enough we were rolling down 27L. We rotated and started our climb.
In flight service started soon after top of climb and we were given a choice of chicken curry, lamb curry or fisherman's pie, we both went for chicken curry. It was surprisingly nice served with a side salad, desert and water. We also got metal knives and forks which was a nice touch. The PTV's on board were excellent with a bit of everything for everyone. There was the usual Islamic channels you'd expect on Saudi but also a big collection of Western movies and TV shows (albeit heavily censored, no boobies on Saudi). I watched Johnny English then the Nat Geo documentary 'Air Force One'. There was also a variety of different maps you could use on the screen including a 'Mecca Plotter', so Muslims know which direction to pray to which was unique.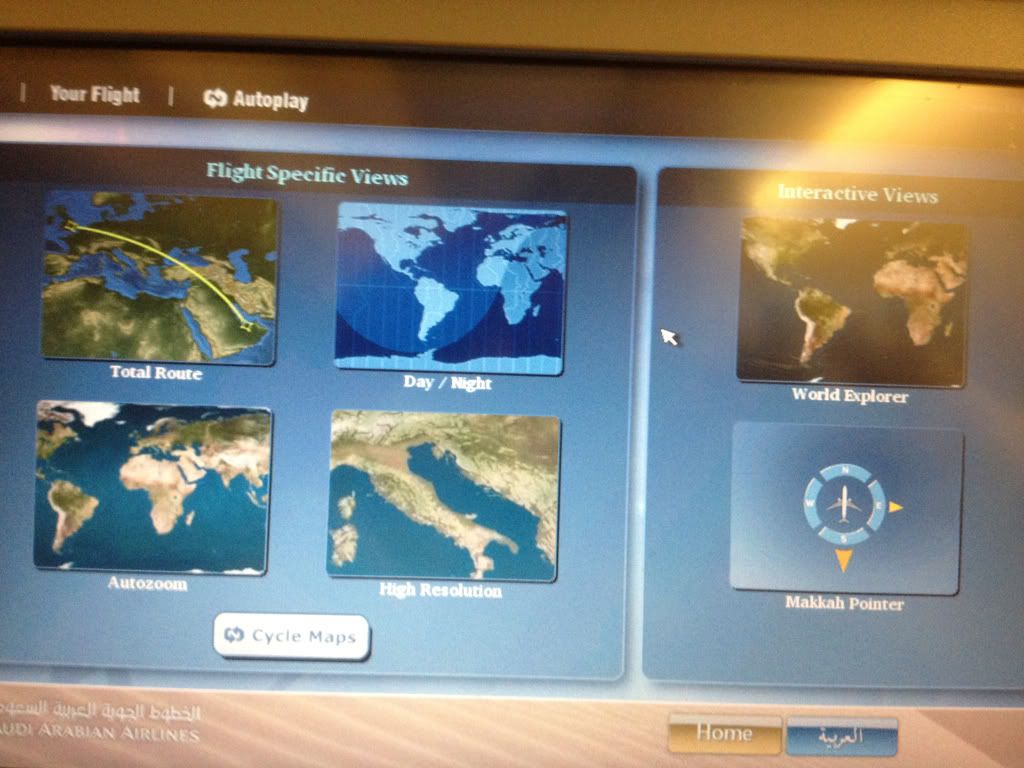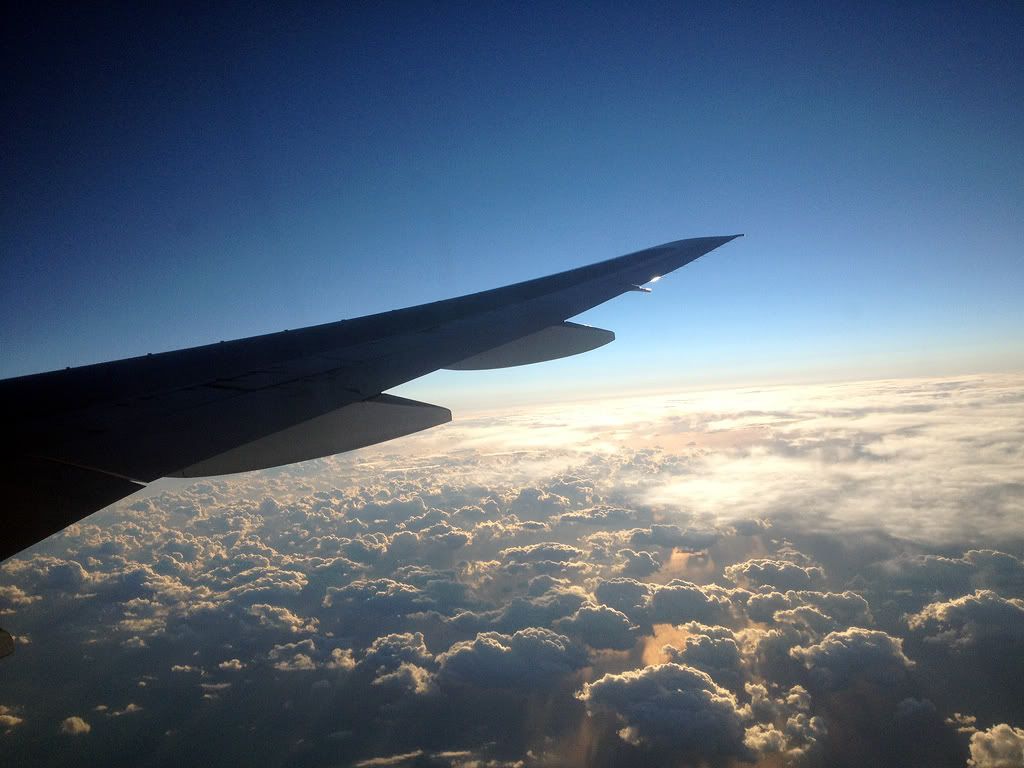 After an enjoyable flight we started to descend into Riyadh. The descent was uneventful and soon the lights dimmed for landing. Cabin crew and passengers were still walking about the cabin with about 2 minutes to landing, not that it surprised me on Saudi. The nose camera popped into life on the big screen and also on the TV's which was good. We touched down then about half way down the runway everyone jumped out of their seats and started to shuffle towards the front of the aircraft for disembarkation...
Transit at Riyadh
I'd been reading about transiting at Riyadh and Jeddah and heard nothing but horror stories about both airports, and they weren't far off. We disembarked the aircraft via an airbridge on the L2 door and followed the crowd like sheep. We looked for signs pointing towards the transit area but there was none. We soon found ourselves at immigration so started to backtrack and find a corridor. Soon enough a Saudi police man pointed us down a corridor which was unsigned and we found a bloke sat next to an xray machine. I'd also read that it's not unheard of for Saudi police to go through all your possessions, including images on phones etc! Luckily he just waved us through the metal detector and we found ourselves in the 'airside lounge', if you could call it that. Another rather rude Saudi person told us to sit down which we did but I'm not sure why, we soon started to have a look around the airport. I went into the toilets to be met by a 'hole in the floor' type arrangement with all manner of horrible stuff splattered around. Someone had decided to take a #2 in one of the gentleman's urinals, so I'll leave the rest up to your imagination.
In the airport there was nothing other than a small cafe which seemed to serve nothing more than chips and drinks, and a dodgy looking duty free shop. We had heard that you get a 'transit meal' with Saudi but no one spoke good enough English to tell us how you claim this meal. Eventually we discovered that roughly half way through your transit a bloke comes out with a large rack of airline meals and hands them out. We got chicken curry once again which was ok.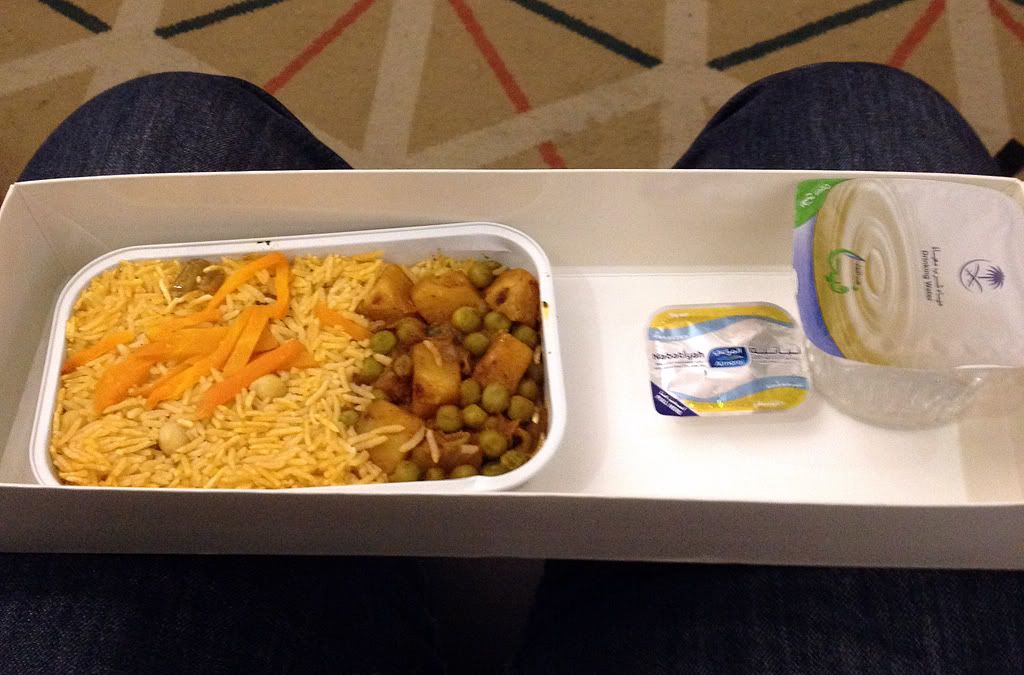 The previous day Saudi had rescheduled our Riyadh - Jakarta flight by an hour without telling us which meant an hour longer in Riyadh which wasn't great but not the end of the world. However, we soon discovered that the flight was further delayed another 2 hours meaning we'd be in Riyadh for 8 hours, urgh! There was a lounge run by Saudi for their business / first passengers so we went up and were told its $27 to get in, which we paid to get drinks and use their wifi. Spent the majority of our time in here until our next flight, the 747-300.
Flight #3 | Riyadh - Jakarta | Saudi Arabian Airlines | HZ-AIP | B743
This flight was scheduled to be 9 hours which is a killer on most aircraft, let alone an old knackered 743 which is due for retirement in a few weeks but we were still strangely excited! We saw the old bird whirl onto stand and saw the passengers disembarking, I think it had arrived from Karachi. We had pre selected our seats on the upper deck which is economy for Saudi, seats 20A/B which were emergency exit rows giving us loads of leg room.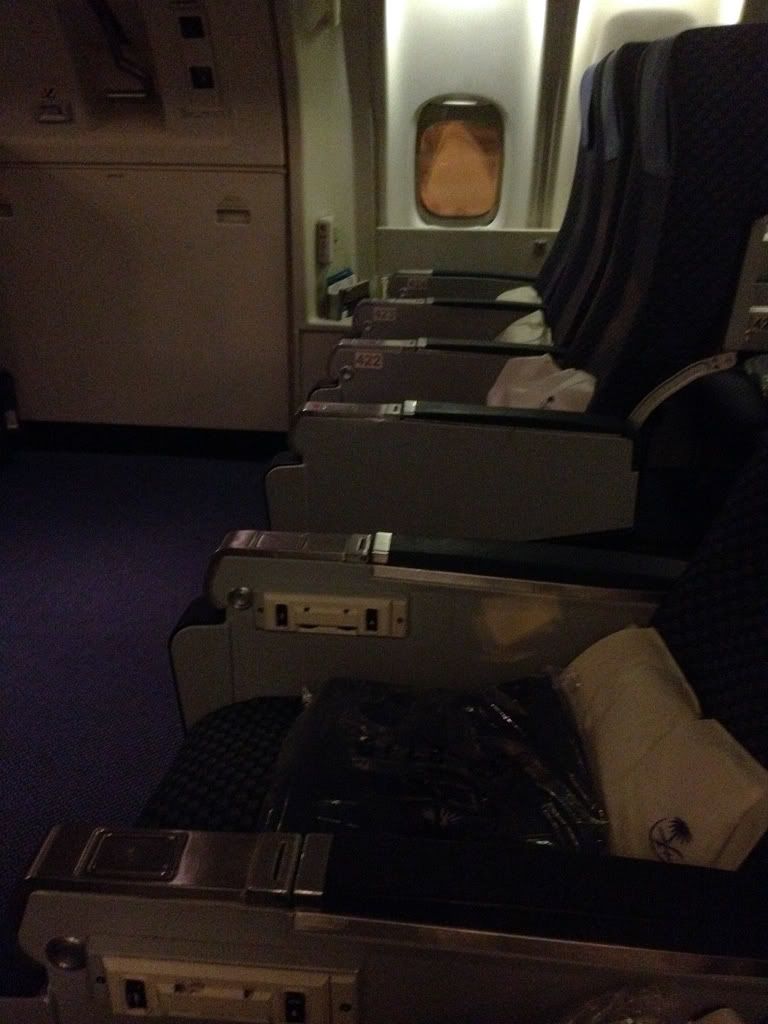 We weren't expecting the flight to be full and it wasn't, with the upper deck only about 30% full. We were the first to board the upper deck and it slowly started to fill up a bit. Towards the end of boarding 3 Saudi gentlemen got on in the full 'sheikh' attire, robe and all that. Two of them were sat on the row behind us (21 A/B) and one was sat next to us on 20C. He seemed extremely unhappy to be sat next to us and pretty much demanded the cabin crew move him to one of the empty rows further back which she refused to do until they had taken off. We started taxiing out and a member of cabin crew quickly asked us if we'd like to move towards the rear of the upper deck where there were two spare rows we could have each, great! We took up the offer and ran down the cabin with our pillows, blankets and bags and soon set up camp on each row!
We soon reached the runway and them old RB's powered up, eventually! A very slow takeoff roll later we were getting some speed on the runway. We rotated at the very last minute (runway lights were red) followed by the scariest climb I'd ever seen in my life! 5minutes after departure we were no higher than 3000ft, and I wish I was joking! Eventually we crawled to cruise altitude where I fell asleep for about 7 hours and woke up an hour before descent, great!
Soon Indonesia came into sight and we were on approach to Jakarta. We landed and taxied to the gate then headed to baggage reclaim after getting my visa. Bags took an age to come around, mixed in with the barrels of holy water etc!
Following are missing for the moment:
Flight #4 | Jakarta - Singapore | Air Asia | PK-AXM | A320
Flight #5 | Singapore - Ho Chi Minh City | Tiger Airways | 9V-TAW | A320
Flight #6 | Siem Reap - Kuala Lumpur | Air Asia | 9M-AFU | A320

Flight #7 | Kuala Lumpur - Jeddah | Saudi Arabian Airlines | HZ-AK13 | B773
So after a great few weeks travelling through various countries and cultures it was time to fly home! We were dreading the flights home (9hrs KUL-JED, 6hrs at JED, 6hrs JED-LHR, 6hrs at LHR then 1hr LHR-MAN) but it had to be done. We knew we'd be flying on one of Saudi's brand new Boeing 777-300ER's so we were excited to get to the airport and get the trip home started. We arrived to Kuala Lumpur with plenty of time spare and went to the 'observation deck' for a few pictures then went to check in. Check in was slow, extremely slow with all sorts of problems but eventually we got checked in and assigned our seats, 68J/L which was at the rear of the cabin in the 2-4-2 config so we wouldn't have someone sat next to us. We proceeded through security and then took the monorail to the 'satellite' pier. We spent about 30mins trying to find somewhere to buy a bottle of water but ended up going Starbucks (or a similar cafe). We then walked to the gate to find you had to go through security again (ala no liquids, great). Knowing Asian security isn't the best, I risked leaving the bottles of water in my bag and got through without a second luck from security, my friend wasn't so lucky.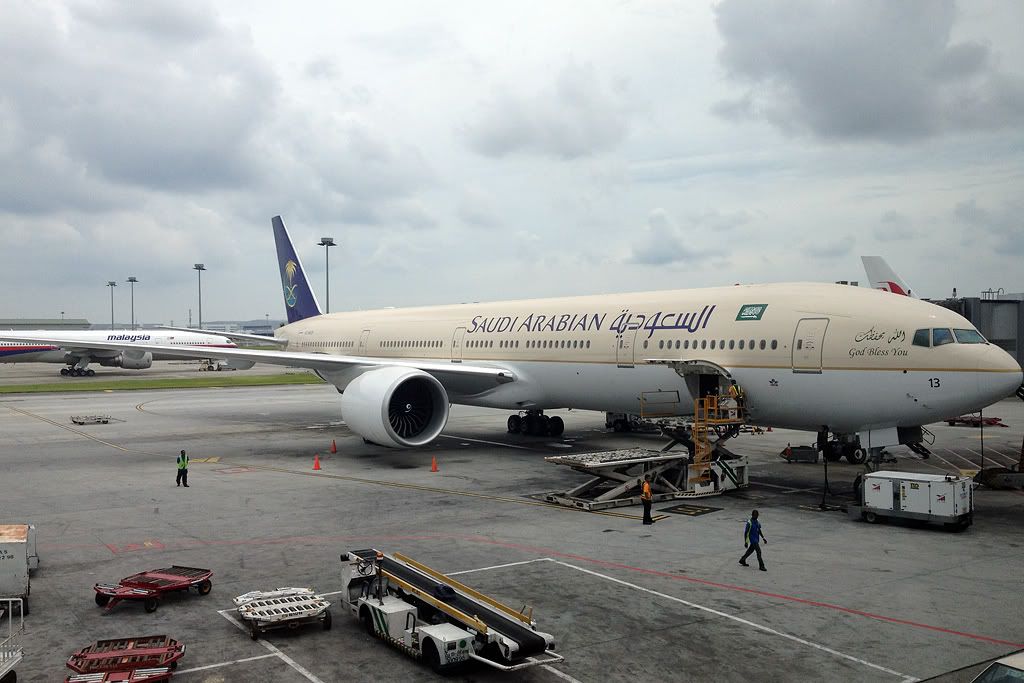 As expect, on stand was HZ-AK13, a brand new 773, excellent! I think it'd been delivered on the 15th and we flew back on the 5th so it was pretty much brand new inside and out. Boarding soon commenced in the usual un-organised fashion but we were still one of the first to board. Walking down the cabin I managed to grab a few iPhone pictures of the nice interior.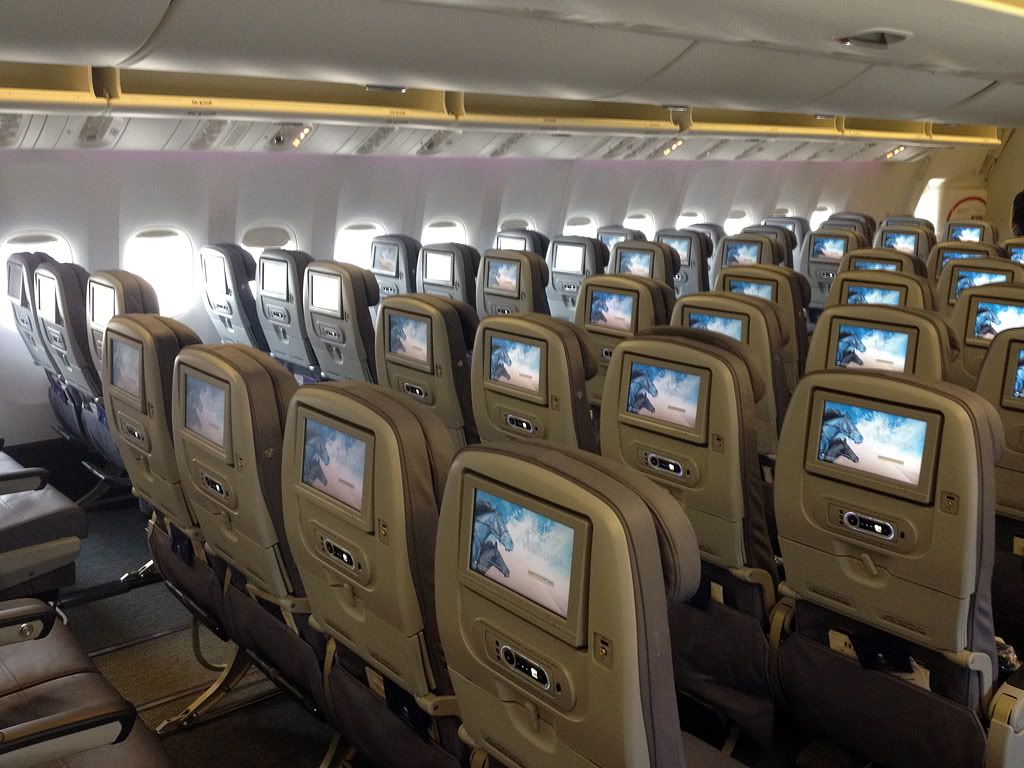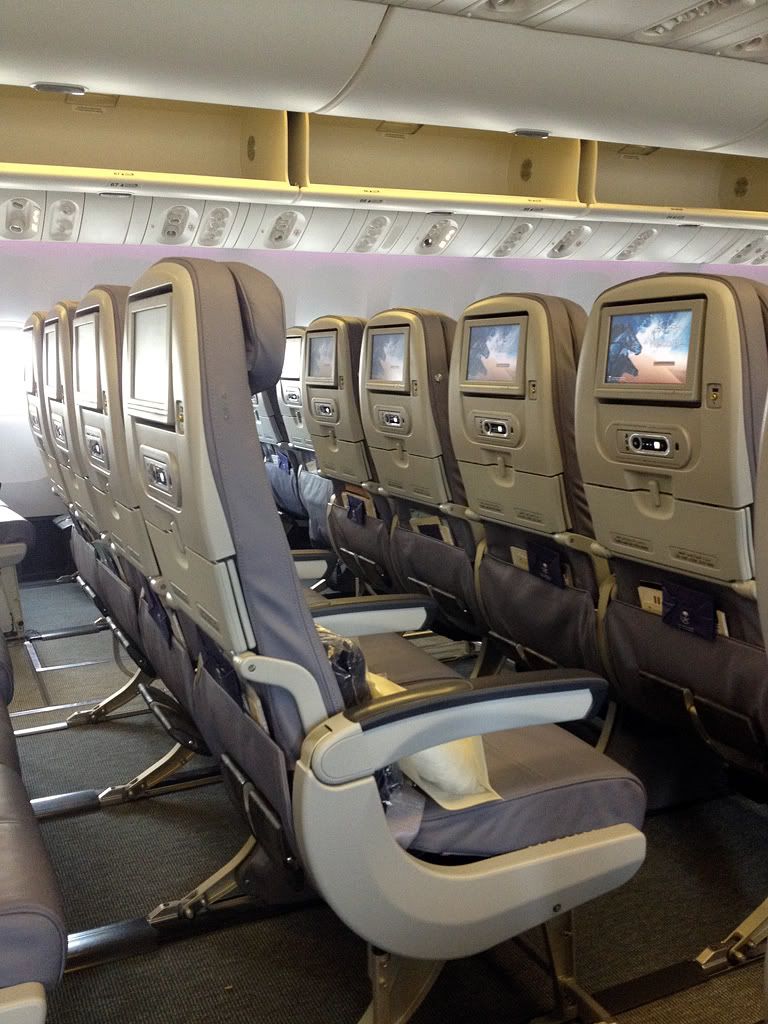 I apologise for the blurriness of this next picture, but it's of the unique 'prayer room' onboard Saudi.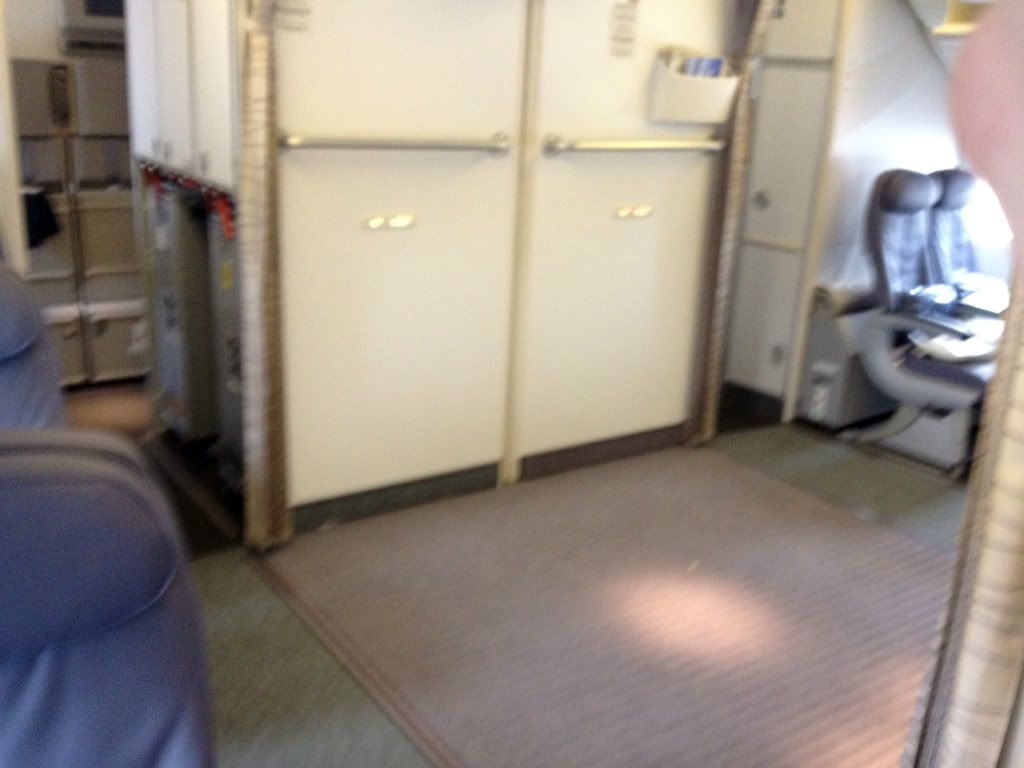 .
We took our seats which were quite comfortable and settled down for the 9hr flight while the rest boarded. About 98% of the passengers were on the 'Umrah' pilgrimage to Mecca in Saudi Arabia, all wearing matching attire which you'll see in a later pic. We did feel extremely out of place but sort of expected it for Saudi. The IFE was similar to the 772, just more updated and modern. It also had a game pad which was good as there was 10+ games installed in the IFE which helped pass time.
Soon enough we started to push back and were told the flight time would be 8 hours rather than 9 which was a good thing to hear. Once again the nose cam appeared as we taxied out and we took off bound for Jeddah. At the top of cruise meal service commenced and once again we were offered curry which tasted ok. The flight was uneventful and spent staring out of the window and watching a few movies / playing a few games on the IFE.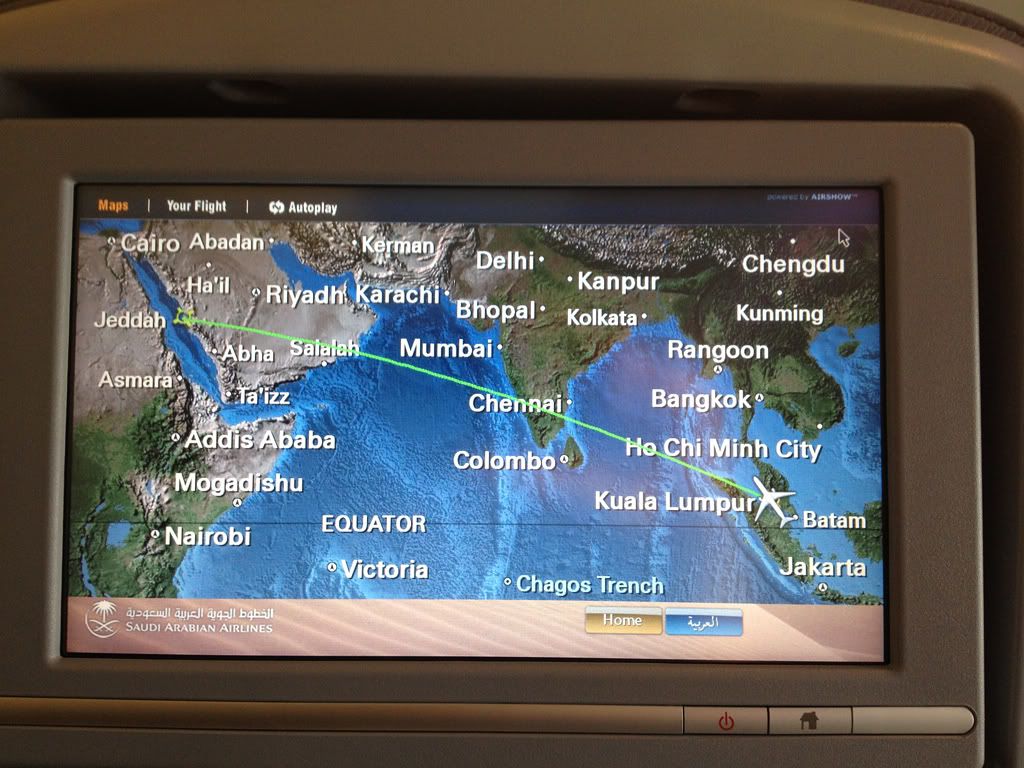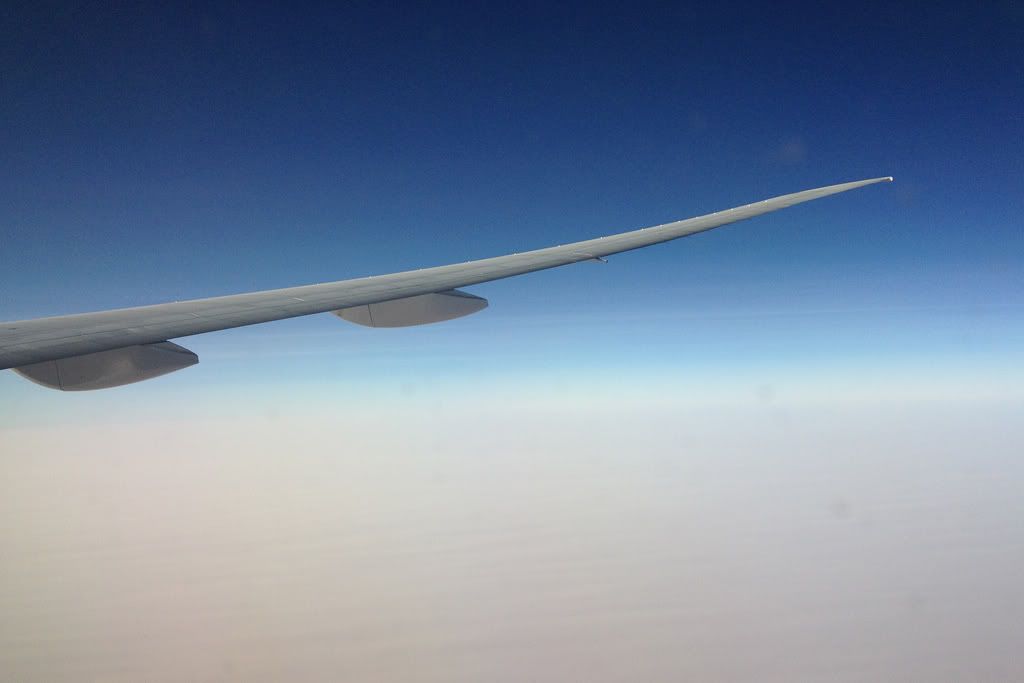 This one made be giggle, check his head!
We slowly started to descend into Jeddah then a new screen popped up on everyones screen, we had no idea what it meant.
As time went down and we flew over 'Miqat' the whole flight started to pray, we still had no idea what it meant. When we got home I had a look and apparently 'Miqat' is where they start the pilgrimage to Mecca.
Landing at Jeddah was uneventful and we slowly started to taxi to remote stand where we would be bussed back to the terminal. The cabin crew asked all Umrah pilgrims to remain seated to allow everyone else to get off, there was only about 10 non-pilgrims on the flight. We were taken to the terminal and then issued with transit paperwork.
Transit at Jeddah
As we had landed about an hour early we had around 7 hours to waste at Jeddah, which was worse than Riyadh. There was a fairly large duty free shop and a small cafe, but other than that nothing, not even an ATM or exchange facility. We once again spotted an 'Al-Fursan' lounge so headed over there to see if we could pay to get in. We were told we could but for $30, as opposed to $27 at Riyadh. I questioned this and the extremely rude Saudi had no idea what I was saying so we just paid it. He wouldn't issue us with a receipt etc so I've no idea if that money ever made it to Saudi or stayed in his back pocket, but that's how the country works. The lounge was basic but ok, with a selection of cold food and drinks available with plenty of seating.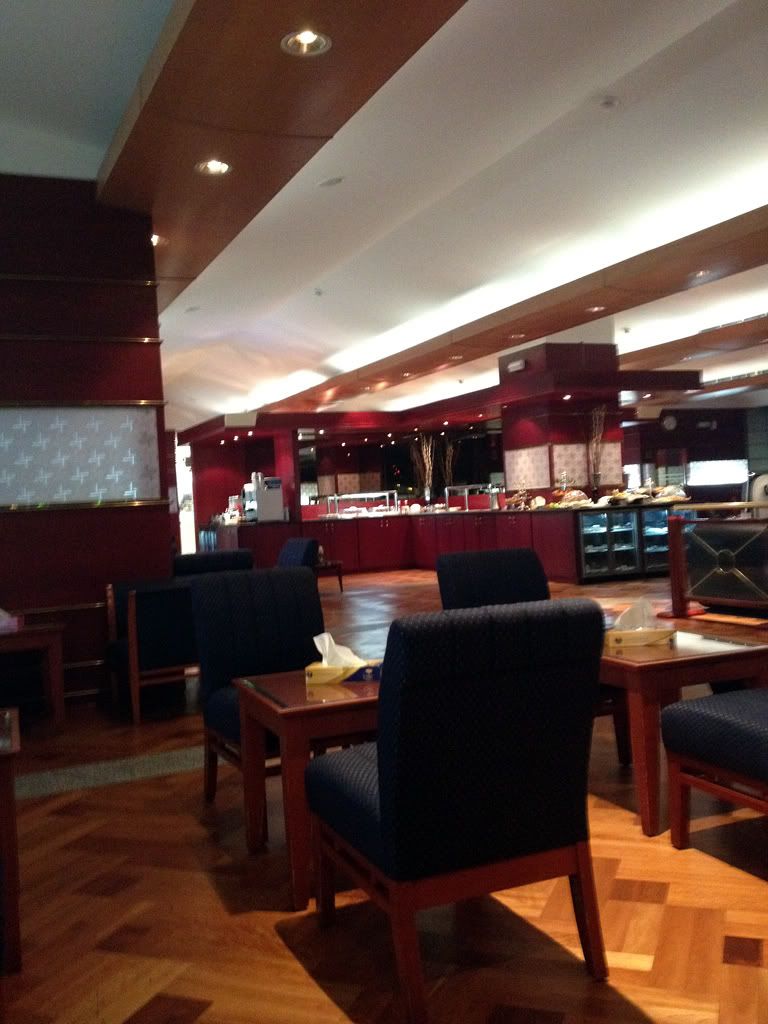 We once again had a 'transit meal' voucher so I went to use mine just to pass some time. I was present with a plate of stone cold rice, some sort of sauce and a piece of chicken slabbed on the top. As it was stone cold and I didn't want to spend the rest of the day throwing up, I left it and headed back to the lounge.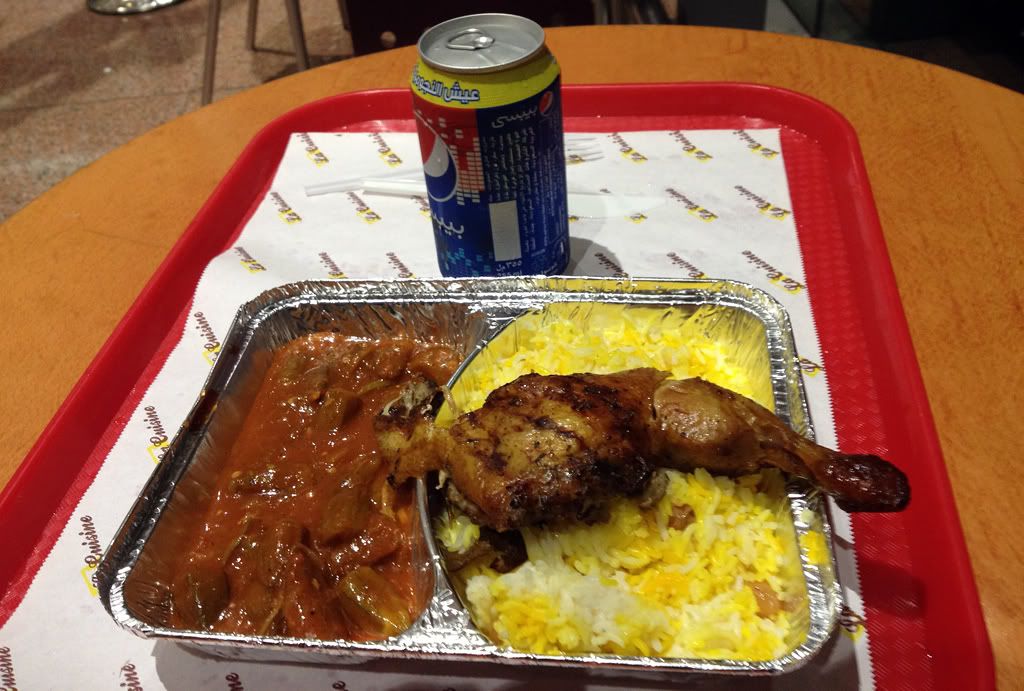 By the time we got back to the lounge they had some hot food on offer but we weren't overly hungry so just grabbed a little bit. It was amusing to see smilie faces there.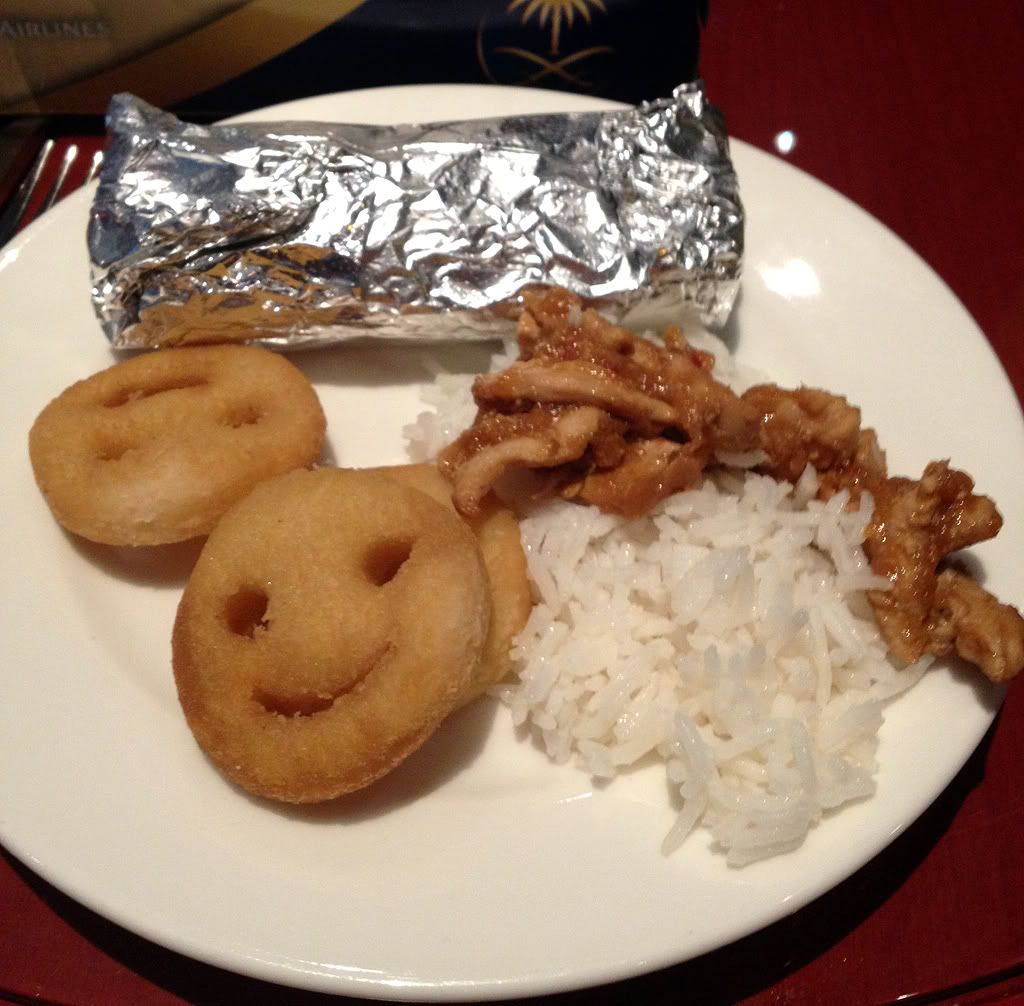 Flight #8 | Jeddah - Heathrow | Saudi Arabian Airlines | HZ-AKD | B772
After what seemed like years waiting in the lounge aimlessly drinking and eating rubbish time came to head to the gate for our flight to Heathrow, hurrah! We departed at around 0120L, which was 0320 Kuala Lumpur time (way past our bedtime) so we were knackered. The flight started boarding and we joined the queue to get re-screened by security and head to the waiting lounge before being put onto a bus and driven out to the aircraft. The aircraft wasn't quite ready for boarding and we were held on the bus a couple of minutes before we were let on. The aircraft was HZ-AKD, a 772 as expected.
For this leg we had selected seats 39A/C, which were the 2-4-2 seats so we didn't have anyone sat next to us. Interior was identical to the first 772 flight and similar to the 773. We took our seats and were really tired so I managed to sleep for most of the flight, not taking up the offers of more curry from the cabin crew. Sorry for the lack of pics for this flight but it was pitch black for the entire flight and nothing exciting really happened!
Sooner than expected we found ourselves on approach to London Heathrow at 0450 in the morning. Touchdown on 27L was smooth and we taxied to Terminal 4 and disembarked via the L2 door. I think we were the first arrivals of the day so immigration was clear and our bags were soon on the carousel. We spotted James Khan from Dragons Den walking through customs after collecting his luggage, I assume he'd been hidden in first class somewhere on the flight.
Transit at Heathrow
While technically not a transit, we just walked out through customs then took the train to T1 to check in again. We were hoping a bit of sweet talk to the women on the BMI ticket desk would allow us to swap to an earlier flight as we had a 6 hour wait to our flight to Manchester but she was having none of it, unless we paid £50 which was £20 more than I paid for the ticket in the first place so we kindly declined.
Flight #9 | Heathrow - Manchester | BMI Regional | G-EMBN | E145
We checked in for our flight which was uneventful and headed through security which was fine. We then spent around 5 hours doing nothing battling to stay awake for our flight back home, it was torture! Time ticked by and eventually our flight popped on the screen so we soon headed down to the gate. My friend spotted a few Xfactor 'celebs' who were flying to Dublin but I didn't know any of them as I don't watch it. We saw our aircraft parked up, ex Flybe G-EMBN. We got a good view of stuff taking off and landing while waiting. I had been checking the weather on my phone and it was pretty foggy at Manchester with long holding times so I was praying the weather would get better.
We boarded on time and doors were closed about -5 to departure. The captain popped up telling us the weather was bad at Manchester but should be within limits for landing which was great to hear. We taxied out with the flight around 90% full which wasn't a bad load really.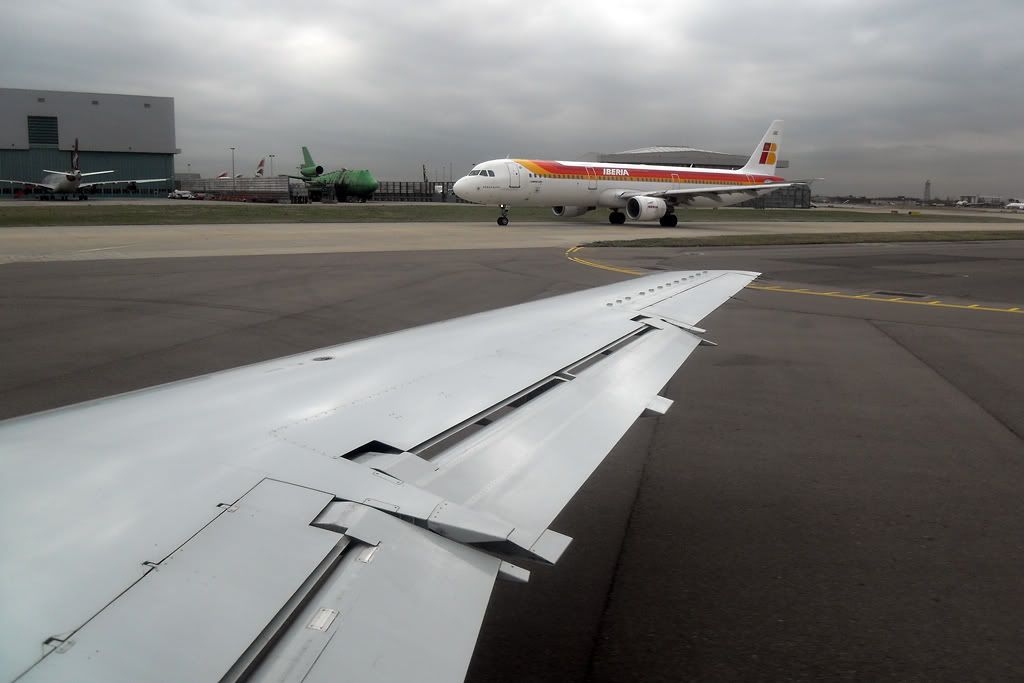 About half way into the flight the captain came back on to tell us the weather was still bad at Manchester and as a result we'd have to hold for 20 minutes just to the South (DAYNE). Not ideal but it's better than diverting! We went around a few times slowly descending then we broke out of the hold and onto the ILS for 23R.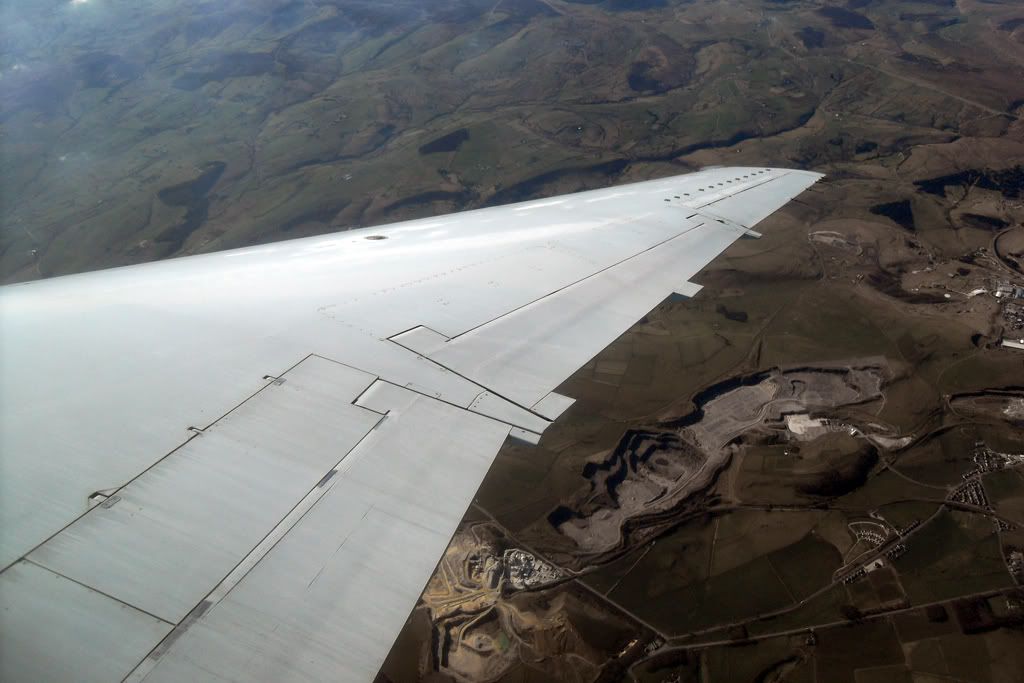 I also filmed the landing at Manchester expecting it to be foggy, as you'll see it wasnt.
http://youtu.be/Dxiiizsjk8E
We landed at Manchester, vacated and taxied to stand. The woman in front of me completely misjudged the step and went bouncing down the steps on her backside. A few other passengers started to see to her as I think she was quite badly hurt but I progressed onto baggage reclaim where our bags were already waiting. I picked up my case and went out into arrivals, which marked the end of a great 3 weeks away!
Hope you enjoyed the report and any comments would be greatly appreciated