Outbound:
30/06/12 - BA 662 LHR - LCA.
Dep Time - 08:20 (on time)
Arr Time - 14:40 (10-15 minutes early)
Seat - 17K (right window - over the wing)
Aircraft - Boeing 767 - didnt quite get the reg, think it was G-BNWX.
So my annual trip to see friends in Cyprus had arrived, I had overnighted at the Jurys Inn Heathrow which is located overlooking Heathrow's Runway 27L - this is the view from outside the hotel reception on the Southern Perimeter road...
For the night I was assigned rom 746, on the top floor, and low and behold, this was the view from my hotel room...
I must've spent an hour just watching planes land before going to the hotel bar for a quiet tipple... or several! Anyway, I arrived via the Picadilly Line from Hatton Cross to Terminal 3, I proceeded through to the BA bag drop desk as I had already checked in online and got my boarding pass, and dropped my bags off at roughly 6am, before proceeding through security, browsed duty free, had a nice nutritious airport breakfast of a full english and a pint of Carling, and soon enough, boarding began.
We were ferried by buses to the aircraft (my pet hate, every aircraft should have a boarding stand in my opinion) and as soon as the last person was on, the doors were shut and we pushed back, ready to depart the miserable British weather.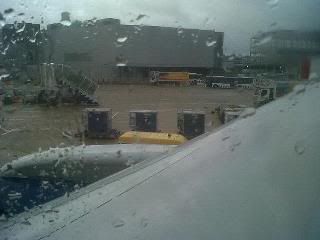 The 767 had been recently refurbed, and looked smart. I had plenty of leg room, the seat was comfortable and the cabin was clean - couldn't ask for anything more! We took off from 27R and turned to the left, before heading out over the channel, climbing to 37,000 feet. Breakfast was served which was an english Breakfast (my second in two hours) of Bacon, Sausage, Scrambled Egg, Mushroom and Tomato, served with a standard bread roll you get on all in-flight meals, a yoghurt and some fruit. Easily the best meal I've had on a plane. I took advantage of alcohol being free (after all I am on holiday) and had a few cans whilst cruising over the Balkans. Over Southern Turkey we began our descent, flight paths into Cyprus have been altered and we had only been in the air for just under 4 hours, the pilot said he was trying to get a 'fast tracked' approach as he called it, basically landing on runway 04 and coming straight in, instead of faffing about with the approach over Larnaca Bay for a 22 approach. We were on the ground roughly 15 minutes after beginning our descent, flying over Paphos, Limassol and passing RAF Akrotiri on the way down. We touched down on runway 04, 15 minutes or so ahead of schedule - Fantastic, and the temperature was a nice 35 degrees with uniterrupted sunshine on the ground in Larnaca. This is the photo taxiing to the gate.
Inbound
14/07/12 - A3758 LCA - LHR
Departure Time - 08:15 (on time)
Arrival Time - 11:10 (5 minutes early, so on time!)
Seat - 14F (window, with a engine view!)
Aircraft - Airbus A321-200 (very smart aircraft!!!)
All good things come to an end, leaving for Larnaca at 5:30 I arrived 10 minutes before baggage drop had opened, so I joined the small queue of people waiting at the desks to drop the bags off.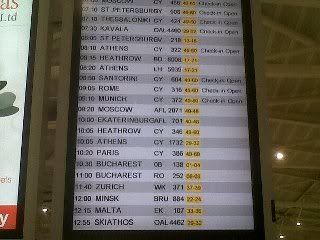 I went through the security and passed into the shopping and eating areas of the airport. For those of you that havent't yet flown out or into the new terminal at Larnaca, I think its probably one of the best airports in Europe (if a little on the expensive side) - Clean, modern, quiet, great views over the airfield, has boarding bridges! After buying myself a coffee, some aftershave and a halloumi toastie (my final one of the holiday
) I waited for 15 minutes before boarding began. The aircraft was clean, comfortable seats, friendly and attentive cabin crew, and all in all a genuinely nice aircraft! We took off bang on time, and due to a lot of turbulence flying over Rhodes, Kos and Greece, the fasten seatbelt sign remained on for most of the first hour or so of the flight - not to worry, as we were served Breakfast. I wasn't quite sure what it was, seemed to be some sort of cheese pastry thing, but still, I ate it, wasn't a patch on the BA breaky though! We flew over Athens and the airport there, which looks huge compared to Ellinkon from the sky!
I fell asleep somewhere over the Balkans (Dubrovnik / Podgorica area) but was abruptly awoken with a 'ARGH!!!' on the plane. People around me were laughing and looking at me as - I had a nightmare on the plane. Not my finest hour, and having the falling dream is not something you want to experience when you're crusing over the Alps at 34,000 feet, which until we hit turbulence again over Eastern France, and had to rise to 36,000 feet, was out crusing altitude all flight. Over the Normandy Coastline we began our descent, for the entire flight we had crystal clear skies, even over the Alps, but as we flew over the English Channel the cloud arrived, the holiding patterns for the 27L approach were horrendous, flying through cloud, wind, rain, hail and a fair bit of turbulence. Through the cloud I managed to make out Fulham FC's ground before flying back into it, we made one final descent through the cloud as the landing gear locked into place, and despite a bumpy and often turbulent descent, our touch down at LHR is probably the smoothest landing I've ever experienced on an aircraft, didn't feel us touch the ground!
Overall, two fantastic flights, both airlines were brilliant however I think British Airways just pinched it from Aegean in terms of my favourite, simply because of the food!
Thanks
x